From: Stow-on-the-Wold to Mickleton
Distance: 13m / 20.8km
Cumulated distance: 385m / 620km
Percentage completed: 37.46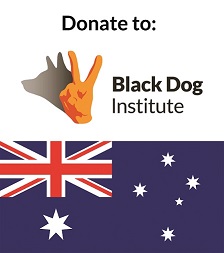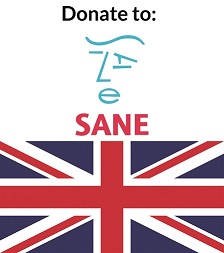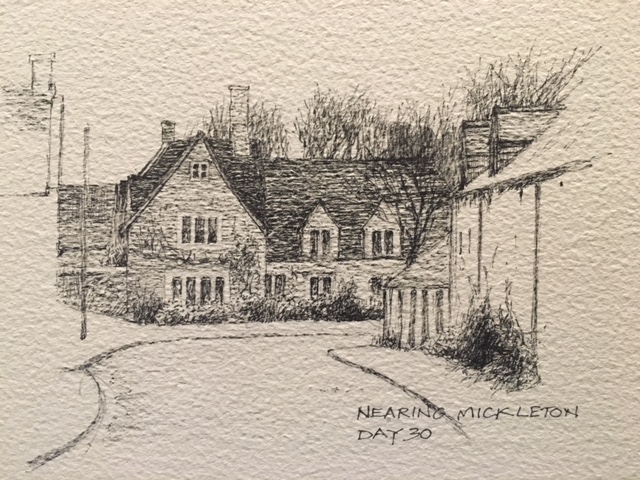 And then there were two. Sadly, we had to leave Swampy Senior to his book and journal writing today, as he injured his leg yesterday and was unable to walk with us. Just Swampy Junior and me. Now, while you couldn't have a finer friend or a funnier person to entertain you on stage at the Comedy Store, he's not overly gifted with a map. And given that I'm rather lacking in this department myself, the day promised to be somewhat creative as we bent our heads together, trying to decide whether we should go left or right. Being nominally in charge however, I will take full responsibility for the extra 4 miles we walked today .. not reflected in the tally at the top of the page.
Added to that, roadworks and fallen bridges only added to the confusion. As I mentioned yesterday however, Swampy is one of the most energetically positive people I've ever had the pleasure to count on as a friend and today, as I made more than a couple of navigational errors, he remained upbeat and we had one of the funniest, most entertaining days of the walk.
From Stow on the Wold we eventually left the village using the right road and picked up the Heart of England Way, to take us to Upper Swell .. a pretty little Cotswold hamlet, with honey stone cottages. Walking down hill should have given us a clue that we were headed instead to Lower Swell. No matter, we thought as we bagged both Swells .. the good people of Lower would have felt left out if we'd only visited Upper. And besides both were very gorgeous.
There was still a lot of water around, making for much mud and general squelchiness along the way.
There's always a golden lining to getting lost and the first of the day was coming across the beautifully appointed Donnington Brewery, nestled into the hillside between the Swells.
The grey skies started to lift as we reached Longborough, another achingly beautiful Cotswold village.
Next up was Bourton on the Hill, another of the big wool producing centres of the Cotswolds .. where wasn't. Sheep were first kept in the area by the Romans. 'Cot' in fact means sheep and 'wold' means hill. By the 15th century England was so dependent on wool that the Lord Chancellor's seat in the House of Lords was made of wool and came to be known as the woolsack, an ironic reminder to their lordships of the vital nature of wool. The Cotswolds even developed its own breed of sheep, known as Lion Sheep. They're big, hornless and have exceptionally long, luxurious fleeces. During the First World War they fell into steep decline and became scarce. Fortunately, with recent interest in rare breeds, they have enjoyed a resurgence and there are now 50 fluffy flocks dotted across the lush green hills of the Cotswolds.
There are also woolly traditions that have survived over the centuries, to this day in the Cotswolds. Woolsack racing, for example, still challenges the hale and hearty on Gumstool Hill, near Tetbury .. where I knowingly diverted to the other day .. every year on Spring Bank Holiday. Teams of four, carrying 60 lbs, race up and down the 1 in 4 gradient, between the Royal Oak and Crown pubs. The original idea behind the race was for drovers to impress their women folk .. now the women themselves participate in the race, with 35 lbs sacks. Well, I'm impressed by both!
As we made our way to Bourton on the Hill, the dramatic grey skies started to give way to big patches of blue. The day warmed up considerably and we were rash enough even to take off waterproofs and fleeces.
The panoramas were spectacular across the Cotswold Hills and we rejoiced in being walkers who could take a less rigid path and thoroughly enjoy the delights it had to offer.
Along our route we passed unique Sezincote House. It's a 200-year-old Mogul Indian palace, reminiscent of the Taj Mahal set within hundreds of acres of lush rolling countryside. As it emerged from the landscape, I turned to Swampy to remark on how extraordinary it looked, but clearly he was already bowled over .. a groan was accompanied by a slow-mo slide into the abundant mud. Much hilarity.
Bourton on the Hill, was indeed on a very steep hill. Very lovely and probably because of the access, not at all touristy unlike its sister, Bourton on the Water. Much to Swampy's delight we also discovered it was the original home to rugby's Bledisloe Cup, a much watched tournament in Australia. As a semi-professional rugby ref, it clearly meant a lot more to him than me.
There then came an interval of much mud, resulting in a lot of inner thigh stretching for some .. but no matter because we thought we were just minutes away from our lunch date with Nigel and his friends John, Stephie and Flora. Walking down a particularly steep and long road, Swampy, who did not have the map hanging around his neck I have to admit, pointed out a Heart of England signpost. 'Shouldn't we be taking this', he suggested. But I spurned his suggestion and said confidently that 'no, no .. Blockley's just another mile down the hill. Famous last words. As we arrived into the little group of houses at the bottom of said hill, there was a signpost pointing back up the hill to Blockley, a mere 2.5 miles away. We were in Batsford.
Now, many, many people in this world would have become very thin-lipped at this stage. But not Swampy .. despite being covered in mud, knees screaming after the unforgiving descent .. he roared with laughter and all was quickly forgiven. As if by divine intervention, I was the next to take a tumble, meaning we were both now pretty well camouflaged in amongst the Cotswold mud.
There was nothing for it but to turn back up the hill and get to Blockley, or Brocolli as we were now calling it, for no apparent reason. The pub of course was closed by the time we reached our destination but thankfully the lovely lady at the cafe was prepared to extend her opening hours and serve us sandwiches, which we took sitting outside in the sunshine.
Taking a more direct country lane route on Broad and then Chipping Campden we then had the biggest treat of the day. Which, gentle reader we would not have seen had we not got lost!
Down in the dell to our right Swampy spotted a deer, walking around the lake.
And then there were more .. who decided that walking around the lake was a waste of time ..
It was like a Cotswold version of the African wildebeest migration. Absolutely stunning.
We took a break to reflect on the beauty and dwell on the relative values of Revels vs Twix.
Chipping Campden is probably the jewel of the north Cotswolds, with its fine, mellow-stoned buildings. However, it too has its silliness. Each spring since 1612, the Cotswold Olimpicks have been held on Dovers Hill, which overlooks the town and the glorious Vale of Evesham. It's an evening event and a procession, led by the May Queen, walks up on to the hill to watch the games below. Throwing the discus is replaced by welly-wanging, boxing by shin-kicking and there are shows of strength with tugs of war .. no doubt originally to impress the damsels but now most likely participated in by lads and lasses alike. It's a very jolly affair by all accounts, with dancing, fireworks, music and flaming torches leading the revellers back to town at the end of the night. 
Chipping in now is the lovely Swampy ..
.. 'As we powered on out of the quaint town, we were faced with a choice. To our right, a more gentile peaceful track through fields and meadows, or to our left a B road accompanied by the occasional roar of a thundering lorry. Given the former option was double the distance of the latter and with the sun fast approaching the distant horizon, we took the executive decision to press forward on the rumbling road. From the crest of a hill, the gorgeous village of Mickleton emerged, igniting a last surge of energy which propelled us towards the finish line. Before too long, the sign for Mickleton mercifully crept into our line of vision and we could now stroll on safe in the knowledge there'd be no need for head torches…yet.'
Black Dog Tails
Pal has been trained to know and alert his owner, Claire if she's in danger of falling into a diabetic coma.